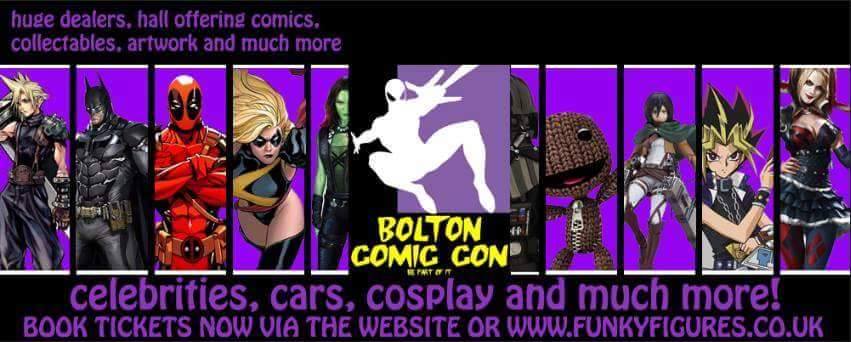 T
his fantastic event (taking place Satuday 5th of September) is situated in Bolton at the Bolton Whites Hotel. 

This is an amazing experience to meet guests from TV & Film such as:
Jack Donnelly - Best known for his role has Jason in the hit BBC show Atlantis and also Jason in the House of Anubis
Norman Lovett - Fantastic stand up comedien known and loved for his role as Holly in Red Dwarf.
Terry Molloy - Not only did he play Doctor Who's arch rival Davros alongside Peter Davison, Colin Baker and Sylvester McCoy, he has also been the voice of Mike Tucker on BBC Radio 4's The Archers since 1973.
Andrew Lawden - The stand in /stunt double for Qui Gon Jinn and Naboo Soldier in "Star Wars: Episode 1-Phantom Menace"  Andrew's credits also include "Robin Hood" , "Firepower", "Murphy's law" , "Topboy", and most recently , the London stage version of "Back to the Future" alternating the roles of Doc Brown and Strickland.
Nicholas Vince - Actor and producer, Nicholas is best known for Hellraiser (1987), Hellbound: Hellraiser II (1988) and Nightbreed (1990).
Laurence R. Harvey - He is a British actor, best known for portraying Martin Lomax in a horror film The Human Centipede II.
Sarah Douglas - Sarah is a highly talent actress, best know for portraying Ursa in Superman and Superman II
Peter McKeirnon
Steve Sears
Jon Davey - Very talent actor, appeared in numerous episodes of Doctor Who. 
Ayshea Brough - Ayshea is a highly talent actress, appearing in TV Shows such as UFO (1970-1973)
As well as guests from the Comic Book Industry such as:
Nick Brokenshire - Nick Brokenshire is the artist for the 'Amelia Cole' series written by Eisner and Harvey Award winners Adam P. Knave and D.J. Kirkbride. 
Dave Windett - He has drawn comics featuring numerous licensed characters, including Inspector Gadget, Eek the Cat, Ace Ventura, Looney Tunes and Korky the Cat . 
Lee Townsend - Lee started working in the comic industry in the mid 90's as an artist for Marvel UK on titles such as the Deaths Head spin off series, Action Man and Transformers.
And Cosplay Guests including:
Mistyy Cosplay - Mistyy's Facebook Page: https://www.facebook.com/MistyyCosplay?fref=photo
---
Facebook Page: https://www.facebook.com/pages/Bolton-comic-con/552470898215425?fref=ts
Website: http://boltoncomic-con.co.uk/
---
Ad blocker interference detected!
Wikia is a free-to-use site that makes money from advertising. We have a modified experience for viewers using ad blockers

Wikia is not accessible if you've made further modifications. Remove the custom ad blocker rule(s) and the page will load as expected.