---
This interview was held by Rick123Axel.
Ruth Wilhoit portrayed several walkers in season 2 and 3 of The Webisodes. Ruth is a stunt woman too.
---
What role/roles have you had in The Walking Dead?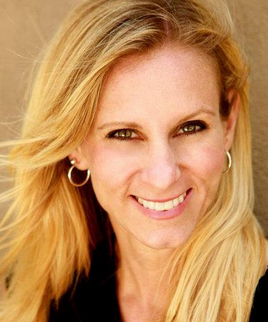 I'm different zombies in all of the webisodes except for the first season.
Did you read the graphic novel or watch the show prior to getting a role in the webisodes? If so, do you have a favorite character?
I watch the show- Norman Reedus is my favorite character!
How did you get the role?
Luckily the director is a friend of mine.
What is it like to work with the amazing special effects artist Greg Nicotero?
He's the friend that I was talking about- he's fantastic!
Do you have any interesting or funny stories to tell that occurred in the process of filming the show?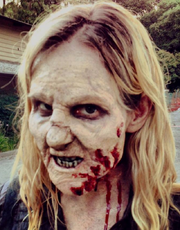 Hmmm- too many to list really.  It's just amazing to see the artists at work when they put the prosthetics on.  They are incredible and the guys are just so amazingly talented.  After we all had our makeup on we were walking around and going to the bathroom and there were some little kids who saw us and started screaming and crying.  I feel so badly about it!  I kept telling them it was just makeup but kids that small don't understand.
Did you create your walker a name or backstory for yourself?
I didn't give myself a name.  I think we did all create backstories but I can't remember what they were sadly.  We had a blast filming them!
What is the atmosphere like on the set of such a serious, dramatic show?
We work really hard and everyone is very professional but we have a lot of fun too.  It's an amazingly cool crew so it's a nice atmosphere.  Not tense but everyone still does a very professional job.
Are you currently working on any other projects?
I'm on a new NBC mid season replacement sitcom called Undateable.
Thank you again on behalf of the entire wiki! We appreciate it very much!
My pleasure!
Ad blocker interference detected!
Wikia is a free-to-use site that makes money from advertising. We have a modified experience for viewers using ad blockers

Wikia is not accessible if you've made further modifications. Remove the custom ad blocker rule(s) and the page will load as expected.