---
This interview was held by Rick123Axel.
Larry Mainland has portrayed several walkers. 
---
What role/roles have you had in AMC's The Walking Dead?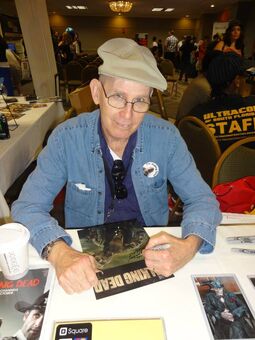 I played 4 different zombies.  All were in Season 1, episode 1.  I was also a promotional zombie,  my closeup scene was the first photo released from the set for advertising, before the show aired.  I was also one of eight people who were brought in to do special promotional photos to be used in advertising around the world.  A photo of Sonya Thompson and I is the #1 photo used in advertising in over 135+ countries.I have moved on to do other things since The Walking Dead.  You can see what most of them are at my IMDb page 
'H'ow did you get the roles?
Applied for them through a casting company.  In season 1 it wasn't that hard to do.  The show wasn't huge back then.  Didn't hurt that I seemed to have "the look" too. 
Did you watch the show or read the graphic novel after your roles?
I watch every week and I've read every issue of the comic.
Who are your favorite characters from both?
Carl in both.
What is the atmosphere like on the set of such a serious, dramatic show?
Serious when shooting.  Fun when there's downtime indoors.  If outdoors, it's spent trying to get cool in the summer and warm in the winter.
What is it like to work with the amazing special effects artist Greg Nicotero?
Great.  He's one of the best.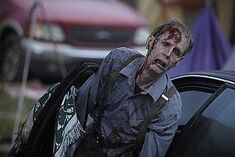 Do you have any interesting or funny stories from your time on the set?
Do you know what zombies do when it's raining during a shoot and they have to wait?
Play cards. I lost by the way, LOL
What is the best thing about working on The Walking Dead?
It certainly isn't the money!  LOL  I'd have to say the best thing is working with all the great people involved with the show...cast, crew and extras.  Second thing would be being to tell others that you are/were involved in the hit show, The Walking Dead!!  That's just cool...
Thank you again on behalf of the entire wiki! We appreciate it very much!
Ad blocker interference detected!
Wikia is a free-to-use site that makes money from advertising. We have a modified experience for viewers using ad blockers

Wikia is not accessible if you've made further modifications. Remove the custom ad blocker rule(s) and the page will load as expected.