---
This interview was held by Rick123Axel.
Christopher Kelly has portrayed several different walkers in Season 2, 3 and 4.
---
What role/roles have you had in The Walking Dead?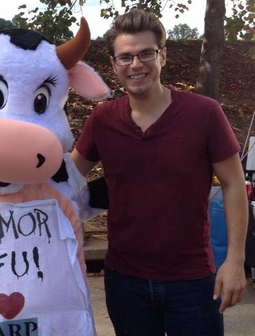 Season 2 finale, every episode of season three, up until episode 10, and I was the hammer walker.  I was featured on their Facebook page as well.
Did you create your characters names or backstorys?
No, I've never done that, I don't think anyone's ever give me a backstory.
Did you read the graphic novel or watch the show prior to getting a role in the show?
I've only skimmed through the graphic novels. I'm originally from Pennsylvania, and before I move down to Georgia, one of my friends was a super fanatic of the television show and she introduced me to it. Also, one of my good friends neighbors in Pennsylvania is a mega fan as well. Honestly, I don't really watch much television. My cable has been out since god knows when and I haven't bothered to call the company to resend the signal to fix it.
Who are you favorite characters?
T-Dog, The Governor, and Carol.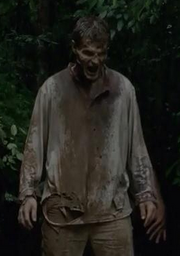 What is it like to work with the amazing special effects artist Greg Nicotero?
It was amazing! I have been a fan of his since I was a child, so to have him actually do my make up once, my heart nearly stopped. He's an amazing man, and everything he touches turns to gold. It's weird watching him on set, like a normal person, because of all the accomplishments he has done. It's kind of like being a fly on the wall watching Leonardo da Vinci doing the Mona Lisa.
What is the atmosphere like on the set of such a serious, dramatic show?
It's really upbeat and fun. Everyone there is really polite to everybody. Everyone is nice to everyone, and it's kind of like working with your best friends.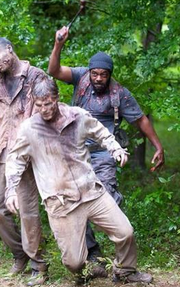 Do you have any interesting or funny stories from your time on the set?
It's always a fun time on set!
What is the best thing about working on The Walking Dead?
Probably that every time you're going in there, it's going to be something new, never a dull moment.
Are you currently working on anything interesting that you can reveal?
Not allowed to say. Oh wait. I'm currently working on an untitled pilot that is going to be a teenage drama that takes place in the upper crust world of Atlanta.
Thank you again on behalf of the entire wiki! We appreciate it very much!
No problem bud. Take care!
Ad blocker interference detected!
Wikia is a free-to-use site that makes money from advertising. We have a modified experience for viewers using ad blockers

Wikia is not accessible if you've made further modifications. Remove the custom ad blocker rule(s) and the page will load as expected.